Posted on Thursday, January, 27th, 2022
In November 2021, we welcomed the world to our backyard, as the UK held the UN's annual Climate Change Conference in Glasgow.
Despite the global pandemic delaying COP26, 2021 was to be a bumper year in terms of public and business efforts shifting climate action from niche to mainstream.
This shift sent waves throughout the voluntary carbon market, where Forest Carbon and other leaders in the sector experienced exponential growth in demand as the private sector brought climate change and sustainability to the core of business agendas (UNFCCC: Race to Net Zero). Such demand-led growth has subsequently increased carbon prices (Blog: The rising price of carbon) and is spurring the development of new projects both in the UK and around the world.
However, the findings of the IPCC report published earlier in the Autumn painted a gloomy future and emphasized the urgency and steepness of the uphill challenge to sustain warming under critical threshold levels. Therefore, the question remained: would COP26 be able to mirror this non-state determination and deliver significant policy shift to drive change and keep warming below a 1.5 degree scenario?
Following the landmark Paris Agreement in 2015, the conference once again took centre stage six years later, bringing negotiators together to deliver on key, outstanding challenges crucial to the success of shared global efforts. Heading into Glasgow, recognition of certain shortcomings of the Paris Agreement meant the following focus areas were vital in doubling down the ambition and acceleration of efforts…
Enhanced Nationally Determined Contributions - first and foremost, securing global net zero GHG emission targets by mid-century, to stay on track with a 1.5-degree Celsius limit of the Paris Agreement.
Scaling & Securing Climate Finance – directing money from the pockets of developed nations, who've historically been the biggest contributors to increased atmospheric CO2 levels via heavy industrial development, to implement greater adaptation measures to protect the most vulnerable communities and ecosystems/habitats.
Agreeing upon the Paris Agreement guidelines – working towards an universally accepted rulebook for Article 6 of the Paris Agreement and emissions trading, particularly in the global carbon markets. To employ a more accurate, transparent and robust mechanism (including essential accounting protocol) to help build integrity and mobilize much needed climate finance.
Building Greater Collaboration & Partnerships – fundamental in supporting the transformative change needed to deliver universal partnership efforts towards the goals of the Paris Agreement. To accelerate collaborative climate action across states, business and civil society, and encouraging flexible mechanisms to help scale up these solutions.
Attention was drawn to some of the key commitments made throughout the conference, particularly in relation to the latter three focus areas, such as:
Acceptance of common rules surrounding reporting and accounting measures,
Recognition of governing stakeholder initiatives to support higher integrity claims in the carbon markets,
And, recognition of the failure and push to rectify monetary pledges to support the most vulnerable LDCs.
Alongside the main negotiations, other actors were also making significant steps, including the birth of coalitions, partnerships, declarations and pledges tackling (most notably) deforestation and land use, the impacts of short-term methane emissions, as well as transitions in EV, clean power, shipping and aviation.
For the first and arguably most important focus area, whilst it was agreed that more frequent and stringent updates of NDCs are to be enforced - with the strengthening of short- to mid-term commitments (ie. 2030 decarbonation plans) - the numbers still look to fall short of a 1.5-degree target. COP26 president, Alok Sharma, summed it up as a "fragile win", but reassured that despite any differences, co-operation of global efforts is "in our collective self-interest". Sharma has recently urged countries to begin turning words into action, and cautioned failure to do so would see commitments "wither on the vine".
Together with a last-minute change in terminology debunking hard commitments to 'phase out' fossil fuels to 'phasing down' fossil fuels has divided opinion on whether COP26 was really a success or not.
Ultimately, the consensus from stakeholders around the outcomes of the event was a feeling of progress, yet, with an understanding (and worry) that much more is needed to close the enormous gap between decarbonisation pathways of current commitments and that of where science tells us we need to be.
Looking ahead to later in the year, COP27 in Egypt will look to resolve the lingering issues of adaptation and resilience financing – with loss & damage funding key to supporting developing countries already experiencing the impact of climate change. Following that, countries will revisit near term targets, issuing improved NDCs commitments and identifying how they will begin turning pledges into deliverable results.
Forest Carbon at COP26
Forest Carbon's partners have helped bring carbon finance to a landscape scale restoration project just south of Glasgow. We jumped on the opportunity of getting some partners who were attending COP26 down to this project site to volunteer on tree planting, and to walk out to visit a peatland restoration site. It was a great opportunity to demonstrate how carbon finance can deliver change, whilst bringing attention to the need to ramp up efforts to restore UK peatlands (80% of which are degraded).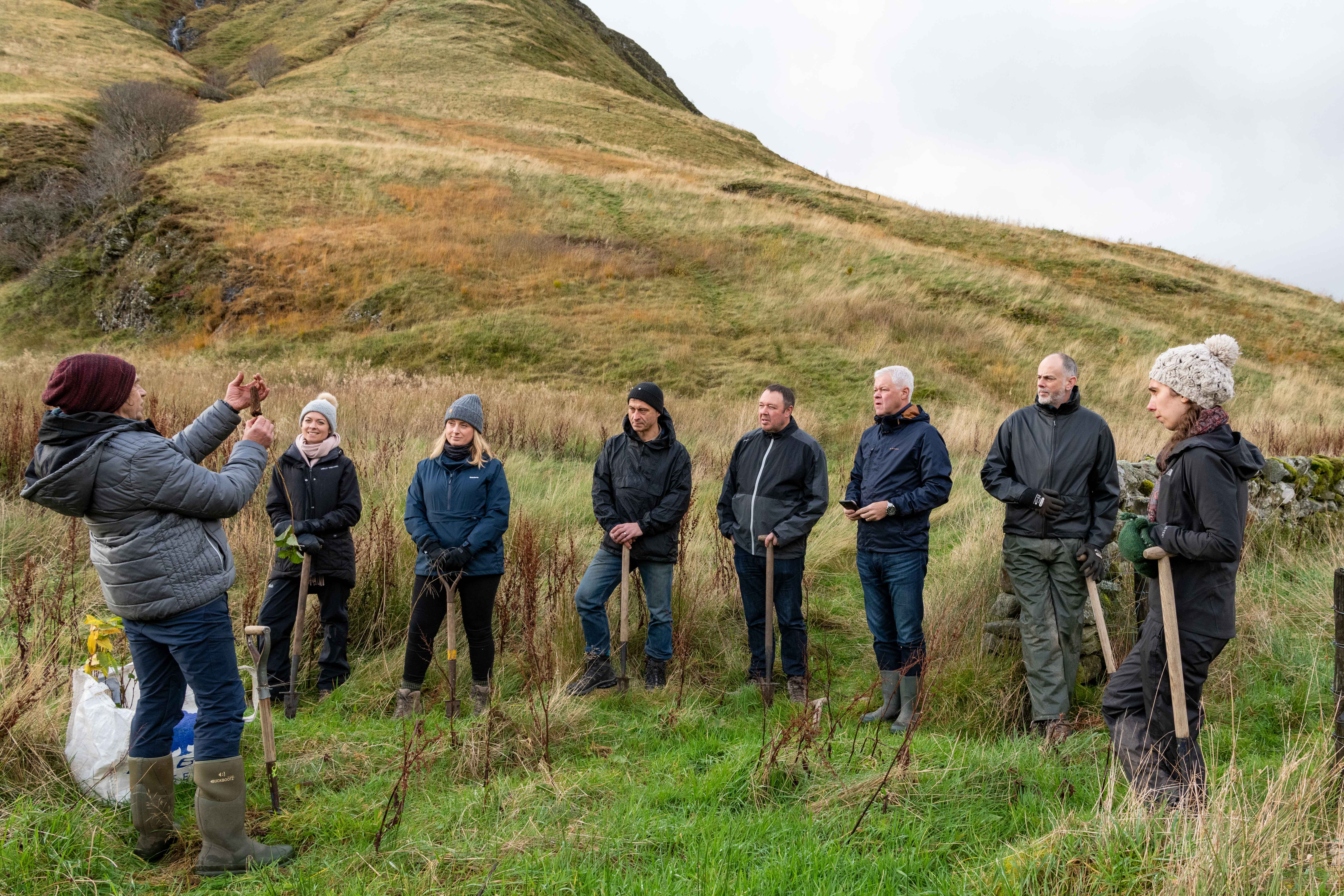 Tree planting at Talla & Gameshope in the Scottish Borders.
We are grateful to our partners who attended on the day, for supporting the restoration work of Borders Forest Trust, bringing back nature to the Scottish Borders. Our partners in attendance included ClimateCare & Natural Capital Partners, Gatehouse Bank, Everoze, TSB and Surfers Against Sewage. Hear more about these site visits, or read this first hand account by Kirsty from ClimateCare & Natural Capital Partners.
Article by Samuel Welsh, Project Manager.