Forest Carbon are James Hepburne Scott, Stephen Prior, George Hepburne Scott, Carolina Krodel, Matthew Hay and Madeleine Wild. We were founded in 2006.
Co-founder James Hepburne Scott has many years' experience in the agricultural trading and finance sectors and is also a former farmer and sales director at one of the UK's largest commercial tree nurseries. James was Chair of the Scottish Forestry and Timber Association in the early 2000s and was among the first to identify a need for carbon funding to kick start UK woodland creation. James was President of the Royal Scottish Forestry Society from 2016 to 2019 and is current Chair of the Tweed Forum. In 2016 he was awarded an Honorary Fellowship by the Institute of Chartered Foresters – an award with only 14 previous recipients.
Co-founder Stephen Prior, a former secondary school headmaster in Zimbabwe, discovered a second vocation through his Durham University Business School MBA dissertation (a study of environmental economics and how carbon markets could work in the UK). His findings - presented to a side conference at the 2005 UN Climate Change Conference in Montreal - convinced him of the importance of woodlands in the effort to deal with climate change and environmental degradation, and of the potential for carbon woodland creation in the UK. Stephen was one of the architects of the UK Woodland Carbon Code, having been a member of its Technical Advisory Committee, and is still a member of the Code's Advisory Board. Stephen has also advised the government on the development of the Peatland Code and is a member of its Technical Advisory Board.
In 2016 George Hepburne Scott joined Forest Carbon as its new Business Development Manager. George is a qualified Chartered Surveyor and worked for Savills plc for 10 years in both Edinburgh and London. His focus was on the investment and development land sectors, and he worked on projects UK wide on behalf of property companies, housebuilders, institutional funds and banks. George has had a longstanding interest in sustainable land use, and the preservation of our country's natural capital.
At the end of 2019 we were joined by Carolina Krodel, holder of an MSc (Distinction) in Carbon Finance, and an MA (Hons) in Politics and Economics, both from Edinburgh University, Carolina has a strong interest in financial market based solutions to climate change, as well as a love of getting out and planting trees.
In January 2020 Matthew Hay became the 5th member of our team. Matthew comes to us with an MSc in Natural Sciences from Cambridge, and three years' experience working in weather and climate at the Met Office. Matthew is passionate about ecological restoration and harnessing natural processes to help combat our environmental crises. In his spare time Matthew leads volunteers on tree-planting weeks in the Scottish Highlands.
In March 2021 we were joined by Madeleine Wild, who most recently was on the team at Mara Seaweed and before that Forum for the Future. Madeline has an MSc in Climate Change: Managing the Marine Environment, and will be leading our work on developing a blue carbon market for the UK.
George, Carolina, Matt and Madeleine work from our office space at Kingsford Business Club, 26 Dublin Street, Edinburgh, with James based in Wiltshire and Steve in County Durham.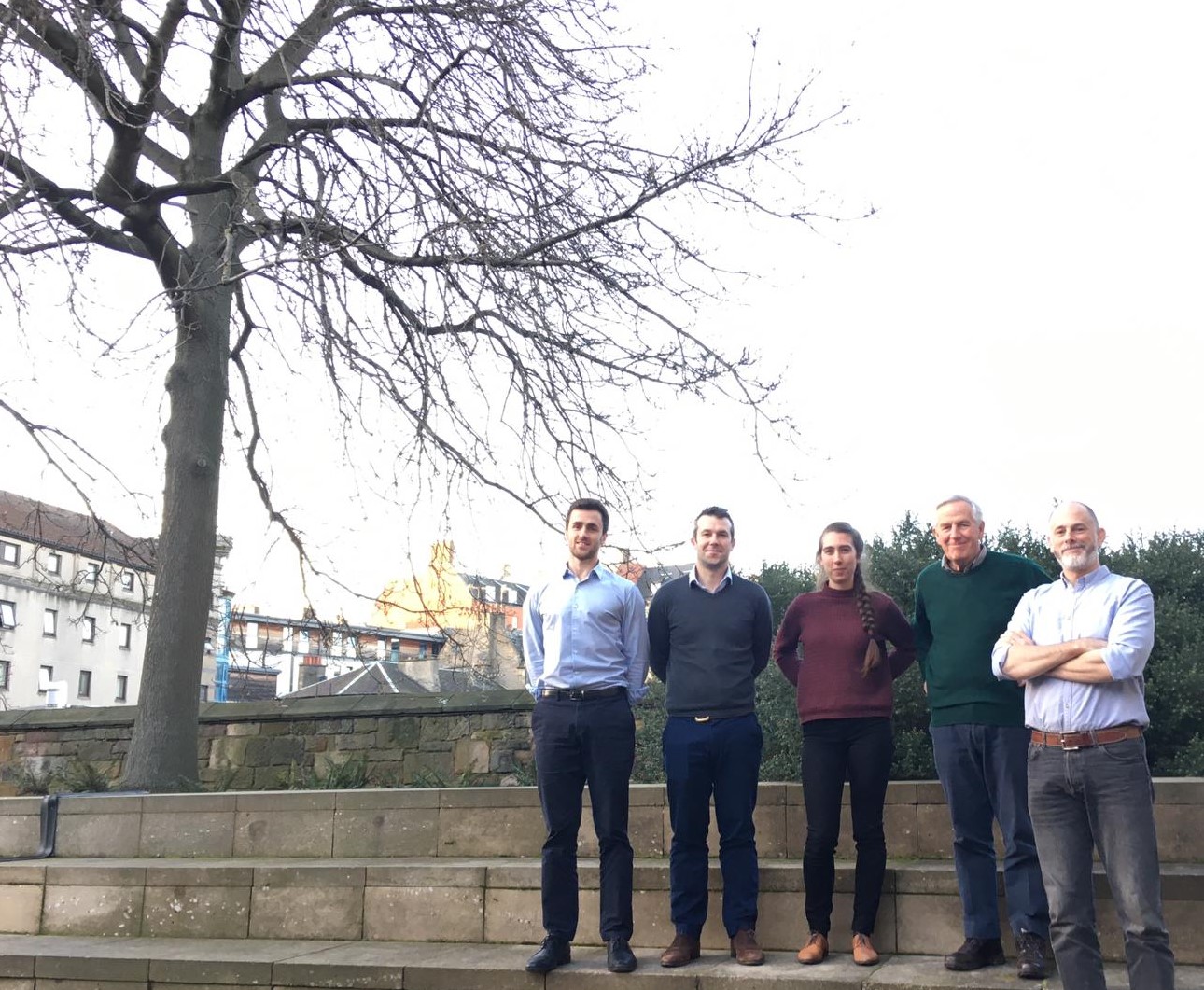 Left to right: Matt, George, Carolina, James, Steve - new photo of the whole team coming summer 2021