Posted on Tuesday, November, 9th, 2021
As climate negotiations breach their second week at COP26 and high-level deliberations ensue to determine the future of our planet, there is a simple gratification felt in the act of planting a tree. Nature-based climate solutions have a critical role to play in increasing our land's capacity to mitigate the huge excess of carbon emissions that are circulating in our atmosphere, and furthermore - they enable the rebuilding of resilient ecosystems to safeguard biodiversity, reduce impacts of extreme weather and bio-remediate soils and waterways.
We invited some of Forest Carbon's partners down from COP26 to Talla & Gameshope, a Borders Forest Trust restoration project in the Scottish Borders, to demonstrate what can be achieved through the blending of private and public finance to deliver ecosystem restoration on a landscape scale.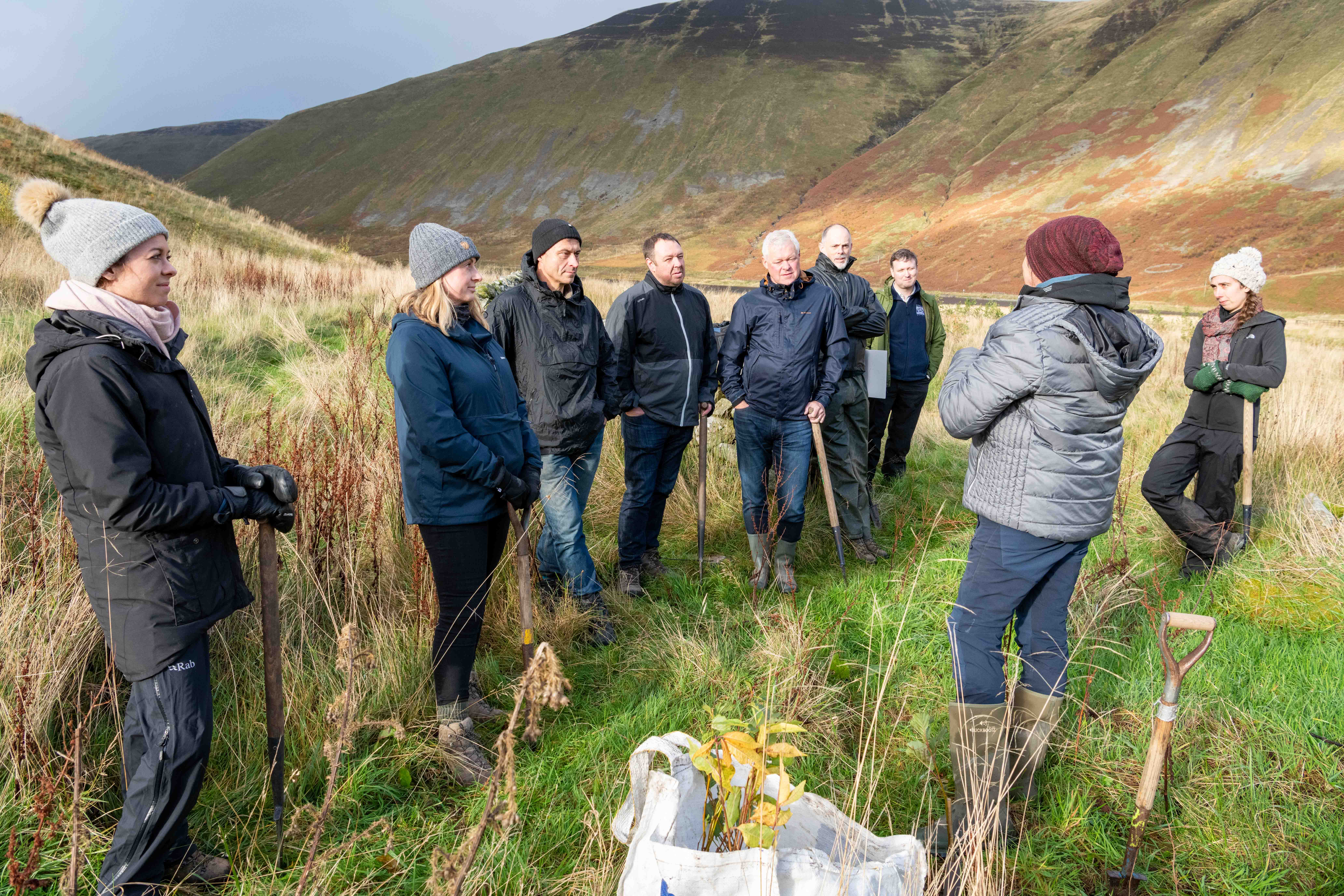 Tree planting day at Talla & Gameshope with partners from Gatehouse Bank, TSB and Climate Care.
Forest Carbon have been working with Borders Forest Trust for over a decade to fund peatland restoration and tree planting at Talla & Gameshope. This work is making a long term and lasting impact on the Scottish landscape, it is ecological restoration at a landscape scale. Forest Carbon certifies woodland planting and peatland restoration areas with the Woodland Carbon Code and the Peatland Code, in order to channel business investment into carbon removal or avoidance projects. Without private funding, this scheme would not have been financially viable.
The blended funding model of government grants and private sector finance has enabled 90 hectares of blanket bog to be restored. This involves the re-profiling of bare peat hags to stabilise the surface and prevent erosion. The process starts with peeling back the vegetation and reducing the gradient of the bare peat, then vegetation is spread back over the bare peat to recolonize the area, therefore halting oxidation and the release of carbon into the atmosphere.
In the longer term, this enables more carbon to be locked away as new peat is formed on the restored, functioning blanket bog. Peatlands can store more carbon than any other terrestrial ecosystem and so play a crucial role in combating climate change. It is challenging and expensive to undertake peatland restoration in this remote, exposed and difficult to access terrain. These challenges make the funding Forest Carbon provide vital to this project.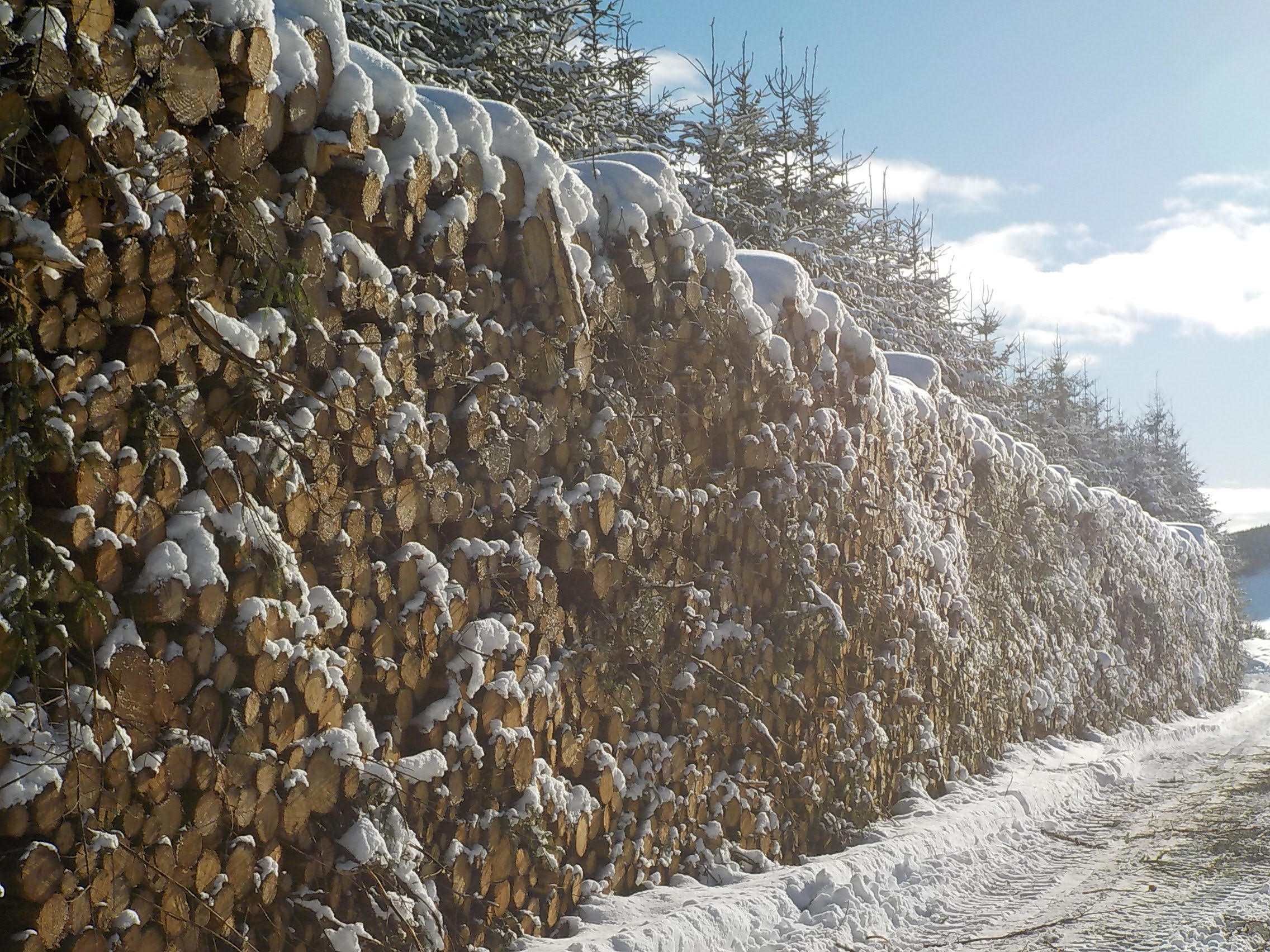 Partners from Everoze and Surfers Against Sewage inspecting a restored peat hag on their visit to Gameshope Loch.
While visiting Glasgow for COP26, Forest Carbon's partners including TSB, Gatehouse Bank, Everoze, Climate Care and Surfers Against Sewage came to visit the site they have helped finance, and lent a hand to get more trees in the ground. Planting trees is an excellent opportunity for people to connect with this project first-hand and see the scale of change that Borders Forest Trust is initiating. Carrifran Wildwood was the inaugural Borders Forest Trust Wild Heart project where the first trees were planted over 20 years ago. This site now provides an inspirational glimpse into what can be delivered in 20 years if we act today.
Borders Forest Trust is a charity established to restore native woodland habitats to Southern Scotland, an area with the lowest percentage of native woodlands in mainland Scotland. Since 1996, Borders Forest Trust have been working towards planting trees, restoring peatlands and other natural habitats, enriching the biological diversity of around 31 sq km in the Southern Uplands.
Borders Forest Trust aims to demonstrate large-scale ecological restoration in action, and inspire landowners, statutory bodies, local communities and policy makers to embrace this alternative model for land use and conservation. They work in partnership with a wide range of local and national organisations as well as landowners, universities, colleges and schools and are supported by a committed group of volunteers, supporters and donors.
This project provides an inherently positive example of how collaboration between communities, businesses and third-sector organisations can work to improve local climate change resilience, restore nature and biodiversity, and play an active role in making a positive impact for the future generations.
How can you get involved?
If you would like to find out how carbon finance can help you restore a landscape get in touch with us, Forest Carbon.
Borders Forest Trust are currently looking for additional volunteers. Find out more here. New faces and beginners are always welcome.
Co-authored by Fiona Love, Borders Forest Trust and Madeleine Wild, Forest Carbon.