The Peatland Code is the certification standard for peatland restoration in the UK. Registering a project under the code provides assurance that greenhouse gas (GHG) mitigation claims are validated and verified by an independent body. The code safeguards the integrity of its project's carbon credits and, through the generation and sale of these units, provides land managers undertaking peatland restoration with a source of revenue.
The Peatland Code was set-up to help facilitate restoration of the UK's extensive peatlands, 80% (1) of which are estimated to be in a degraded state. Degraded peatlands are a significant source of GHG emissions, and in the UK alone are contributing 23 million tonnes of CO2e emissions each year (2), almost 3.5% of the country's total carbon footprint (3).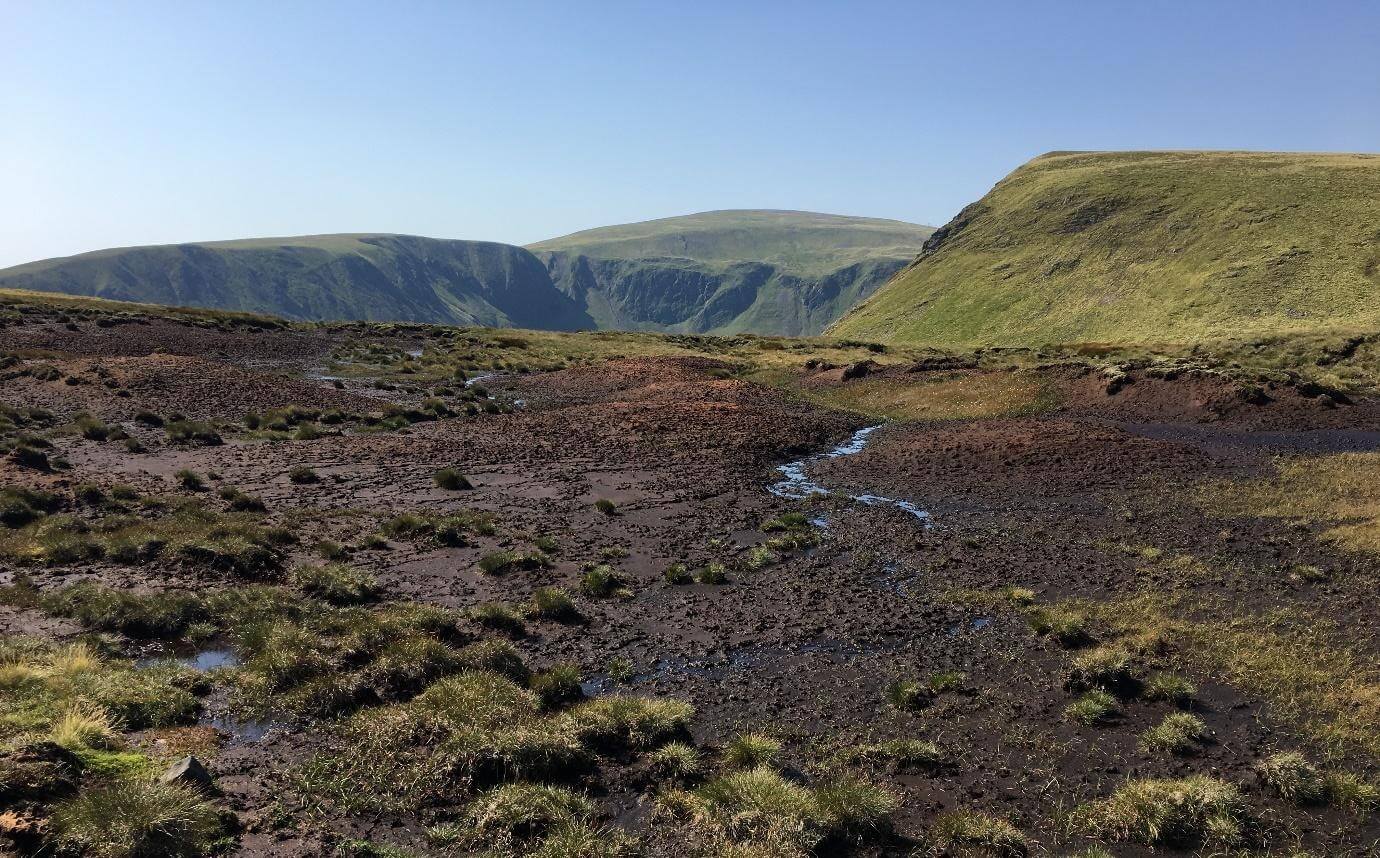 Photograph of a degraded peatland in the Cairngorms National Park, near Glenshee. The bare peat is vulnerable to both oxidation and erosion.
Launched in 2015, the Peatland Code is the product of a huge collaborative effort between multiple parties - including NatureScot, IUCN, DEFRA, Scottish Forestry, Highland and Island Enterprise, the NFU - and us at Forest Carbon. The Peatland code sets out a series of best practice requirements including a standardised method of carbon quantification.
Did you know…

Tackling peatland GHG emissions has multiple co-benefits including improved water quality, habitat creation for biodiversity, and flood mitigation.
Since the code's inception, Forest Carbon have developed several peatland restoration projects. These include a scheme at Dryhope, which in September 2018 was the first project to be validated under the Peatland Code. Since then we have developed further projects in Scotland and Wales, two of which have carbon available for purchase:
- Rotten Bottom, Scottish Borders
- Gameshope Loch, Scottish Borders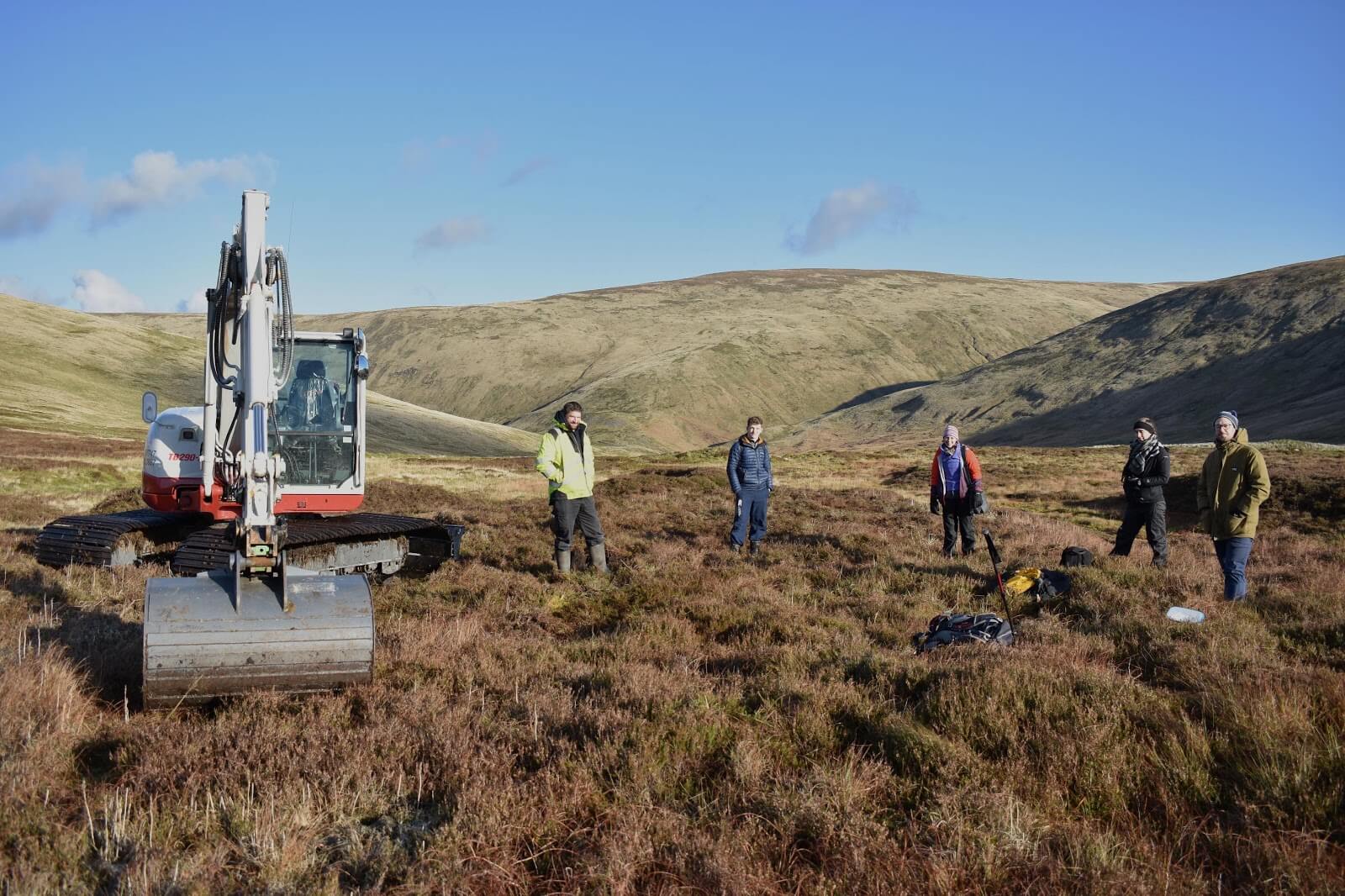 Photograph of the Forest Carbon team out on site at Gameshope Loch, meeting the contractors who delivered the restoration
The Peatland Code has as registry database which provides access to all the validated UK peatland projects.
If you are thinking about restoring peatland, would like to support peatland projects, or simply learn more then get in touch.
References
(1) IUCN, UK Peatlands: Peatland Programme. Accessed: 30/03/2021. LINK.
(2) Smyth, Mary-Ann & Artz, Rebekka & Taylor, Emily & Evans, Chris & Moxley, Janet & Archer, Nicole & Burden, Annette & Williamson, Jennifer & Donnelly, David & Thomson, Amanda & Buys, Gwen & Malcolm, Heath & Wilson, David & Renou-Wilson, Florence. (2017). Implementation of an Emissions Inventory for UK Peatlands. LINK.
(3) IUCN (2021), Peatland addition to the UK GHG inventory adds 3.5% to national emissions. LINK.